The following are found on the Commonwealth War Graves Commission website or on local War Memorials.
—————-
Lance-Corporal William George Gwinnett, of the 2nd Battalion, Gloucestershire Regiment, Number 5180079, died 27th May 1940, aged 29.
He was buried in Row B, Grave 23 in the Cassel Communal Cemetery extension, at Nord, in France.
He was the son of Frederick Francis and Ellen Louisa Gwinnett of Sapperton in Gloucestershire.
—————-
Winifred Violet Gwinnett, civilian, died on 26th August 1940, in Birmingham, aged 29.
Winifred was the daughter of Bertram and Clara Hunter of 590 College Road, Erdington, and the wife of Cyril Gwinnett of 757 Kingstanding Road, Erdington, where she died.
Her name is recorded in the Civilian War Dead Roll of Honour located near St. George's Chapel in Westminster Abbey.
—————-
Berkeley War Memorial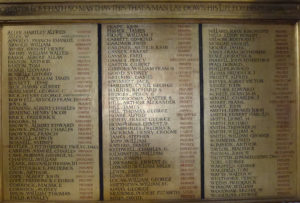 This entry for 'Jack' GWINNETT refers to Able Seaman Benjamin John GWINNETT, Number J/54679 who died on HMS Caledonia on 17th November 1917 at the age of 18 years old.  He was the son of Elizabeth GWINNETT of Canonbury Street, Berkeley, Gloucestershire and the late THOMAS Henry GWINNETT.  Jack was buried at sea and is commemorated on the Plymouth Naval Memorial, plot 21.
__________
Two members of the GWINNETT family are recorded on the Rodmarton War Memorial;  A GWINNETT and H GWINNETT.
The first was Lance Corporal Arthur GWINNETT, Service number 24543, of the 8th Battalion, Gloucestershire Regiment.  He died on 18th April 1918, aged 33 years.  He was the son of Stephen and Sarah Gwinnett of Culkerton, Gloucestershire.  He is commemorated at the Tyne Cot Memorial in Belgium.
The second man commemorated on the War Memorial was Harry GWINNETT.  He was a private in the Grenadier Guards, his service number being 19419.  Harry died on 12th October 1917 aged 27 years.  He was the son of Mr and Mrs G GWINNETT of Rodmarton, Gloucestershire. He was also buried at Tyne Cot Cemetery in Belgium.